Driver CPC Training has been introduced across Europe with the core aim of improving road safety and maintaining high standards of driving.
And the Driver CPC certification is now a standard part of professional driving, which all drivers must adhere to whether they are in charge of operating a bus, lorry, or coach.
But What is Driver CPC Training?
Established by the European Union as an initiative that aims to ensure that all drivers on the road are competent and proficient, Driver CPC is a set of standards that are applied to initial driver training and career-long continuing education programmes.
Who Needs CPC Training?
Driver CPC Training is now legally required for every driver that has a Category C or Category D licence and includes the following commercial vehicles:
Articulated lorries
Tipper trucks
Bin lorries
Heavy construction equipment
Buses – both regional and local
Coaches – both regional and continental
But that's not all… all operators of HGV and PCV vehicles must also be CPC certified.
What Does the Training Involve?
All new drivers seeking to obtain their first Category C or Category D licence are required to undergo a complete training programme and part of that training involves CPC training, which stands for 'Certificate of Professional Competence.'
CPC training courses are designed to prepare all drivers for their theory and practical test, providing them with the skills and knowledge they need to become a competent, well-rounded driver. It is these tests and training that create the CPC qualification.
Here's a brief overview of what you can expect to cover during the course:
How to operate the safety controls of a vehicle, whilst minimising wear and tear
Learn about the brakes and retarder
How to use the speed and gear ratio and manoeuvre hills in response to potential brake failures
How to optimise fuel consumption
Understanding the industry regulations around driver working hours and how to apply the regulations
Being able to identify the risks of the road
Recognising how to prevent accidents
Preventing the trafficking of people, including illegal immigrants. You will also cover the consequences for drivers if you find yourself in this situation.
Learning about the importance of self-care including diet and exercise, alertness, illness, stress and mental health issues
Understanding how to successfully assess emergency situations and what to do
Periodic CPC Training for HGV, LGV and Bus Driver
The regulation also now requires drivers to complete 35 hours of periodic training every 5 years, to keep your CPC to professionally drive a lorry, LGV, HGV, bus or coach. Drivers can be fined up to £1000 for failing to comply with these regulations.
Here at JMD Haulage, we provide effective Driver CPC Training that has been designed to provide you with The Driver CPC – a qualification for professional bus, coach, and lorry drivers.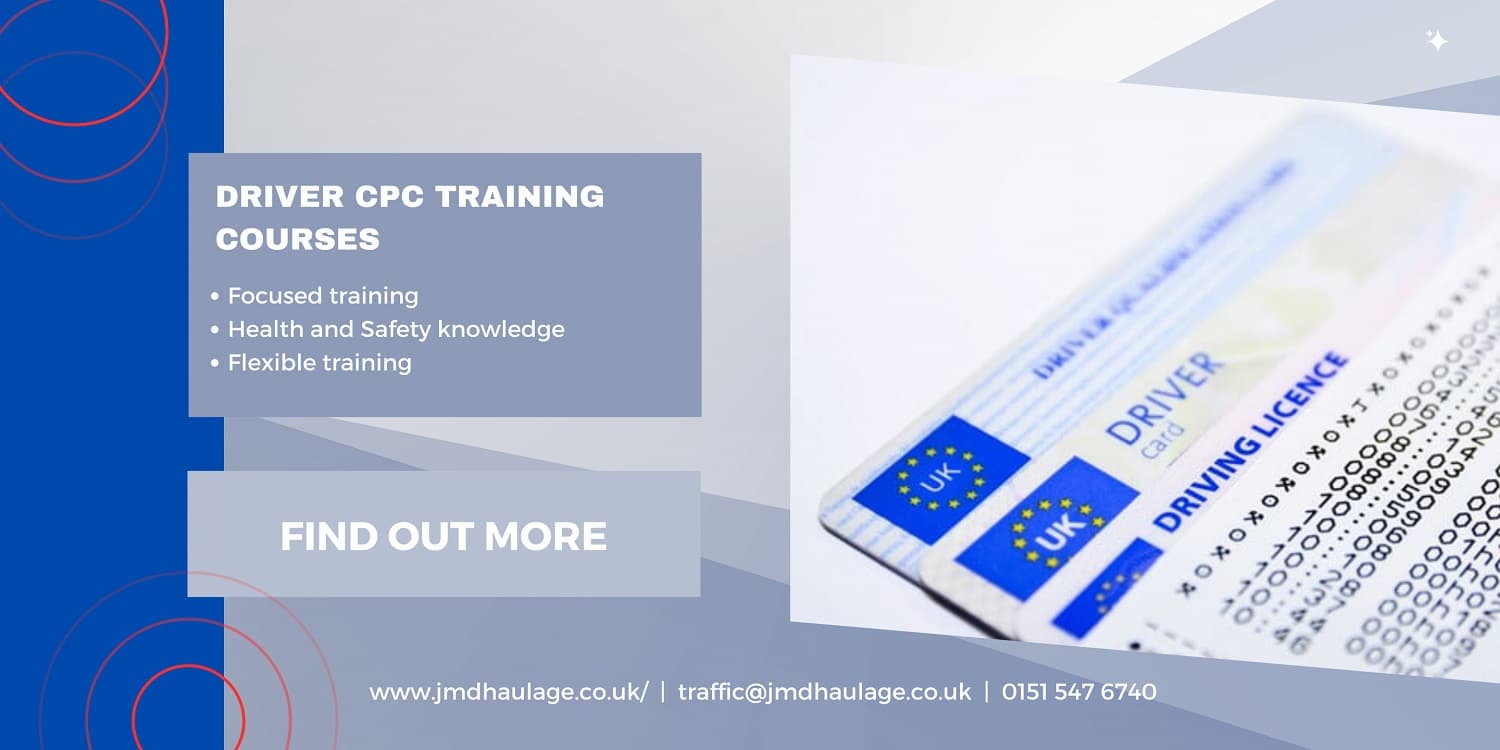 Read related article: