The Accord European relative au transport international des merchandises Dangereuses par Route is an international treaty that regulates the transport, labelling, and classification of dangerous goods. Essentially, it is an agreement in place throughout Europe that governs the carriage of dangerous goods by road. It was first implemented in 1957 but amended later in 2017 and all haulage companies should ensure that they adhere to the regulations.
Who Needs ADR Training?
For drivers who will be driving vehicles with tanks and tank components as well as some drivers who will be operating vehicles that will be carrying dangerous goods in packages, then they must be in possession of a unique vocational certificate of training that aligns with the European Agreement on ADR.
However, ADR transportation is not just for any driver that holds a category C licence. Those drivers who are in possession of Category B Licences may be required to undertake ADR training. This will enable them to transport hazardous packages that are small.
The regulations were altered in 2004 any driver transporting these goods had more responsibilities to adhere to and this would mean that they would also need to undertake awareness training in the work that they undertake.
How to Qualify for Carrying Dangerous Goods?
To be considered for ADR, every driver has to have a minimum age of 18. Furthermore, they must also have a minimum of 2 years of driving a lorry, while they will need to be in possession of a valid CPC card. In order for a driver to be considered applicable for their ADR licence, there are two options available:
ADR training will take place alongside others who have obtained the qualification. This is learning on the job and is one option that is taken by those drivers who have a standard Cat 2 HGV licence.
This option involves receiving training from the very beginning. This means that all that is required is your CAT B car licence, and then you are able to train for both your CAT C licence and your ADR. This takes drivers through the entire process from start to finish.
ADR Licence Regulations
As discussed, ADR relates to the European Agreement concerning the International Carriage of Dangerous Goods by Road. It is designed to ensure that dangerous and hazardous goods are transported safely by any driver who is transporting these materials around the EU. The regulations are designed to ensure that the transportation of these goods is both safe and secure, ensuring that other road users remain safe. Therefore, the regulations stipulate that any drivers who want to undertake this kind of driving will be required to partake in additional training. Previously, this was only necessary if you were driving a vehicle that was heavier than 3.5 tonnes, but this was changed in 2007 and the regulations are designed for drivers of all vehicles, regardless of their size. Essentially, if the goods you are transporting are considered dangerous, then an ADR licence is required.
ADR Classifications
Class
Dangerous Goods
Division(s)
Classification
1
Explosives
1.1 – 1.6
Explosive
2
Gases
2.1
Flammable gas
2.2
Non-flammable, non-toxic gas
2.3
Toxic gas
3
Flammable liquid
Flammable liquid
4
Flammable solids
4.1
Flammable solid
4.2
Spontaneously combustible substance
4.3
A substance which in contact with water emits flammable gas
5
Oxidising substances
5.1
Oxidising substance
5.2
Organic peroxide
6
Toxic substances
6.1
Toxic substance
6.2
Infectious substance
7
Radioactive material
Radioactive material
8
Corrosive substances
Corrosive substance
9
Miscellaneous dangerous goods
Miscellaneous dangerous goods
Transport Vehicles Drivers Can Operate
The ADR licence will enable you to drive the following vehicles, although this is dependent on what classes you cover during training it could include:
Road tankers that contain dangerous goods
Vehicles with a tank container that contain any dangerous goods
Vehicles that transport radioactive material
Vehicles that contain dangerous goods in packages or bulk
Importance of Having an ADR Certificate
It is crucial that any business that transports hazardous materials should use drivers who are ADR trained, as well as vehicles that are compliant with ADR. This ensures that all drivers have received the relevant training and that ensures that all materials are transported safely and in accordance with the European Agreement.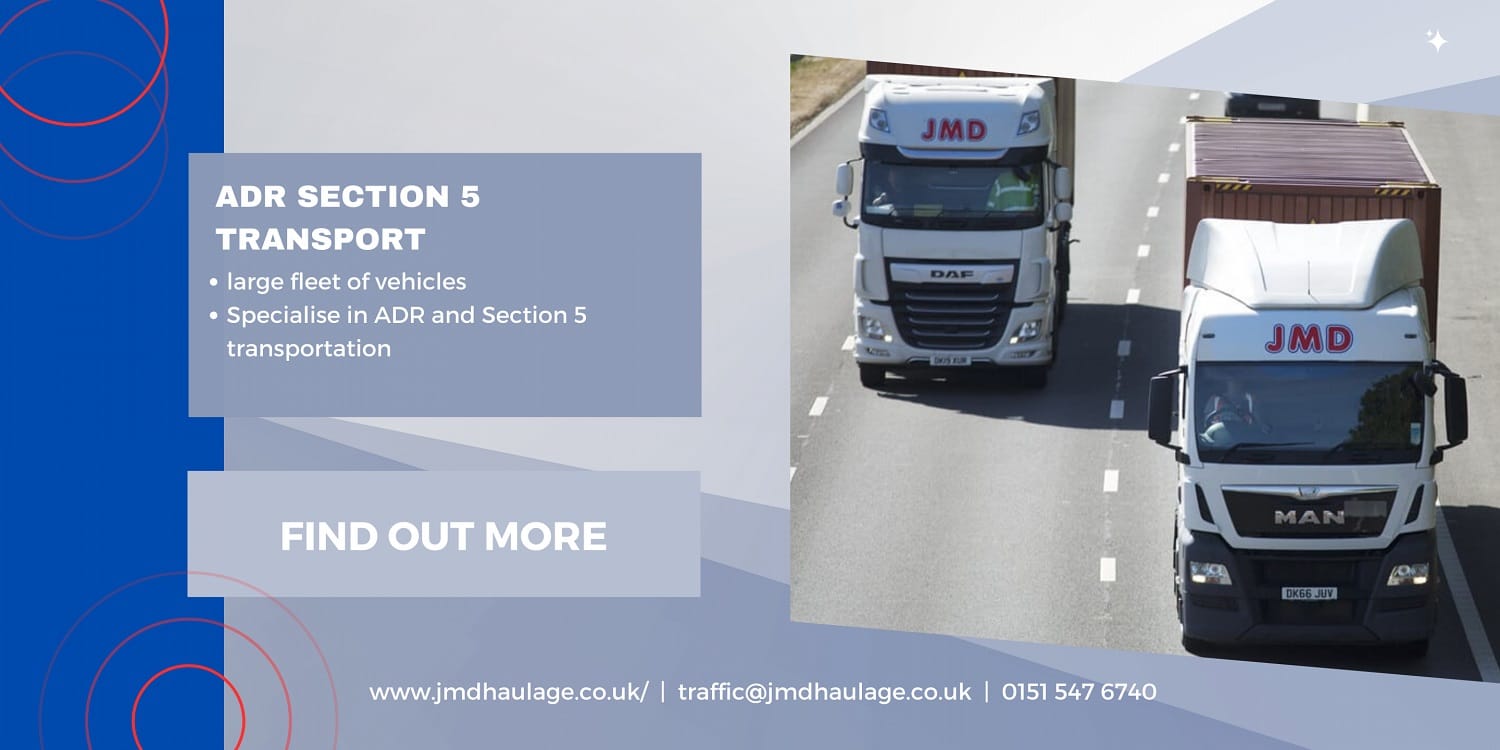 Read related article: