TrailerMaster has confirmed a new relationship with JMD Haulage, one of the largest independent container hauliers in the North-West region of the UK.
The trailer telematics provider has rolled out its patented Electronic Brake Performance Monitoring System (EBPMS®) across JMD's full fleet of 118 trailers, following a successful trial period.
JMD Haulage Ltd is a family-run transport business which was founded by John Deveney over 40 years ago. Since then, JMD Haulage has gone from strength-to-strength, and is now managed day-to-day by Director Alan Maguire, who has been with the business since 1989.
Telematics experts TrailerMaster introduced their patented Electronic Brake Performance Monitoring System (EBPMS) to the market in 2014, in response to the specific guidelines introduced by the DVSA. As an alternative to the traditional Roller Brake tests, the DVSA state braking performance can be monitored and assessed using an EBPMS (Electronic Brake Performance Monitoring System). The TrailerMaster system provides dynamic, live monitoring of braking performance in a simple graph plotted against the DVSA pass mark.
"The roll-out of TrailerMaster EBPMS System across our 100+ strong fleet is a real show of intent to put driver safety and vehicle condition as a top priority." – Alan Maguire, Director & Transport Manager.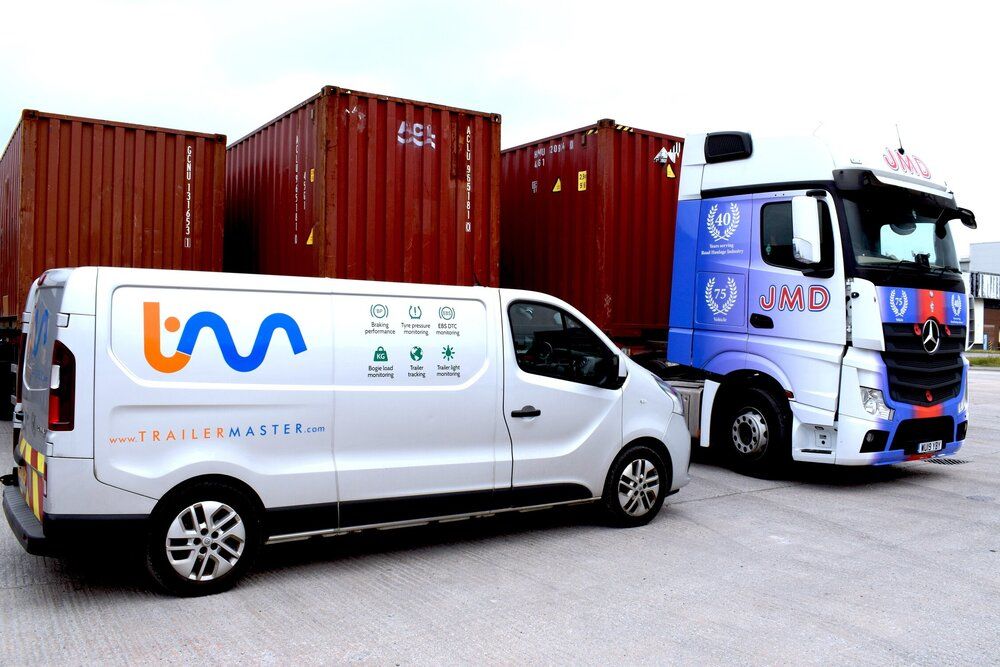 "To serve our customers, our drivers travel across the whole of the UK. The TrailerMaster EBPMS will continually monitor the brake performance of all of our vehicles – which really is a no-brainer from a safety and compliance perspective. By removing the requirement for roller brake tests – we will be significantly reducing vehicle downtime – which, in the current climate – can only be a positive!"
Managing Director of TrailerMaster, Dave Potter, explained: "We are delighted to begin what we hope to be a long and fruitful partnership with JMD Haulage."
"It is always fantastic to see a customer buy into the idea of EBPMS – not only from a cost-saving perspective, but a driver safety and compliance perspective too."
Alan Maguire, who has been a director at JMD for 15 years, continued, "Scheduling vehicle maintenance can be a nightmare from an operational and logistical perspective – especially with over 100 vehicles in our fleet. Therefore, with the need for quarterly Roller Brake Testing removed from our maintenance schedule, we look forward to seeing an increase in our efficiencies."
"As a proud, family-run business, we believe the continued growth of our business has come from a dedication to building long-term relationships with partners – which is what we look forward to establishing with TrailerMaster."
Article Source: https://www.trailermaster.com/news/trailermaster-announces-partnership-with-jmd-haulage